BUSINESS
Negative Reviews: Can Be Blessing In Disguise For Your Business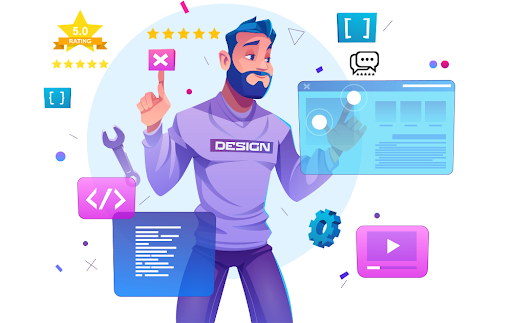 Business owners always become very concerned about negative reviews of their business. Common thoughts that may come to mind like, what if all those negative reviews influence the potential customers to not try your business? What if negative reviews even dissatisfied your existing customers?
All these questions can make you focus only on the drawbacks of the negative reviews. But have you looked into the other side of all the negative thoughts?
Yes! At times negative reviews can be rewarding for your business.
However, if you think that negative reviews are overpowering positive reviews then you can Display Google reviews on Squarespace. All those positive Google reviews will help you to gain the trust of your customers.
But if you are only focused on removing the negative reviews from the business page then you are doing it all wrong. Let me tell you why. Customers today are more clever than before they can evaluate what is real and fake. As per Invesp, 95% of the customers suspect the authenticity of the business if they do not see any negative reviews.
And if your business has a balance of positive and negative reviews then that can prove to be beneficial in an unexpected way.
Thus, keep reading this blog to know how negative reviews can be beneficial for your business.
Take Negative Reviews Positively: The Perks
No businesses are perfect and your customers may have real complaints about the products and services you are providing. But, businesses don't need to worry much about negative reviews. Because a few negative reviews on your business are pretty normal and healthy for growth.
To prove this below are some of the benefits that businesses can enjoy from negative reviews. Let's get into them straight.
Important For The Growth Of Your Business
In the old days, the testimonials of friends and family were a great source of information before making any purchase decision. Similarly, today's online world has made reviews a great word-of-mouth before choosing any business.
Statistics from Statista show that 68% of US shoppers believe in reviews rather than the testimonials of friends and family before making any purchase decision.
A study by Power Reviews shows the flip side which shows negative reviews have helped 85% of customers make their purchase decision more carefully. And the interesting point is that 91% of the customers among them belong to the age group of 18-29.
It may bring up the question in your mind how negative reviews are helping. Sometimes negative reviews help to understand the real value of the product that you may not be able to understand from positive reviews. For example, suppose after using a beauty product a customer with a particular skin type suffers from an allergy. This kind of negative review helps businesses to know where they need to work and bring improvement for maximum customer satisfaction. This will bring visible growth to the businesses.
Make Your Business More Real
Take the opportunity of negative reviews to bring your business into the limelight which shows your customers you have the best customer service who care about your reviews. Also, let your customers know that the people behind your business are working 24/7 to serve their valuable customers with the best possible solution.
When you don't reply to the queries or feedback of your customers it offends them and they even lose trust. So, the next time before purchasing from your brand they will think twice about it. This can even make them change brands. Thus, it is important for businesses to reply to every review whether it's positive or negative.
So, when businesses reply to negative reviews it gives them the opportunity to show their business is real and their customers are important to them. Which brings confidence in the potential customers to try your product.
Lastly, too many positive reviews on a business can confuse shoppers as it may seem fake. This can make a customer question the authenticity of the business. No business in the market can be picture-perfect and today everyone knows how easy it is to buy positive reviews.
It Helps To Bring Improvement
Customer satisfaction is the key to the successful growth of every business. Managing reviews in a proper way brings a successful boost to a Business. Customer reviews whether negative or positive are gifts to a business. Those reviews consist of important information that can help your business to grow and improve.
Negative reviews from your customers have the key points about your product that you need to look into improving your products. No one can tell you about your product better than your customers who have used it. So give attention to the reviews of your customers and what they have to say about your product. Make changes as per what the majority of unsatisfied customers have to say. This will help you give them a tailored experience. And who doesn't love to be heard and seen?
Not all negative customer reviews are a threat to your company but you can use some of them to improve your company and bring visible growth.
However, if you are receiving too many negative reviews on your business page which are affecting the reputation of your business, you can get back to them. But before responding to them you should plan.
Plan Before Responding To Negative Reviews
Customers notice everything, so the way businesses reply to negative reviews talks a lot about them. Remember that you do not need to be scared of negative reviews. 
It is suggested that instead of ignoring the negative reviews businesses should reply to them. But before that, you must have a plan for how you are relying upon negative reviews that will not spoil the image of your business.
Quick reply from the business impresses the customer, which makes them feel valuable to the business. According to the statistics of MyCustomer, 51.7% of customers expect businesses to reply to their negative reviews within seven days. So it is suggested to act on negative reviews as soon as possible.
Negative reviews can be two types and not all of them are valuable for your business. One type of negative review can be from a customer who is really disappointed by your product and service. And the other type can be received from fake customers who want to take advantage of spoiling the reputation of your business deliberately.
You can reply to the disappointed customer in a tone that shows them you are really concerned about their bad experience and want to rectify yourself by serving the best way possible to them. This helps them to build trust in your business. Be friendly to your customers and offer them replacement or reimbursement for the bad product.
For the fake negative reviews, you can play smart and reply in a tone of sarcasm without insulting them. Arguing is not a good idea, so just play smart.
Leaving the negative reviews without responding to them can remain negative which can have an adverse effect on your audience.
Keeping yourself genuine is the key to responding to any kind of review. Avoid using any template. Take your time, think, plan, and then respond to them accordingly. Each negative review is an opportunity for you to show your customers that you care about their opinions.
Summary
Most companies try to avoid negative reviews which at some point makes sense. But as we have said not all negative reviews are actually negative for your company. They can be helpful for your business in several ways that have been covered in this article.
Good reviews today have become very easy for the company to buy. So, if a business has some bad reviews that creates a healthy balance and helps the shoppers to trust the business.
Negative reviews that have false claims about your business you must defend them with a proper reply and dont ignore them. Satisfying your unsatisfied customers with your reviews brings overall improvement to your business.
In the end, keep in mind that each review has valuable information so treat them carefully which can bring growth to your business.