GENERAL
The Most Effective Office Cleaning Checklist for Busy Professionals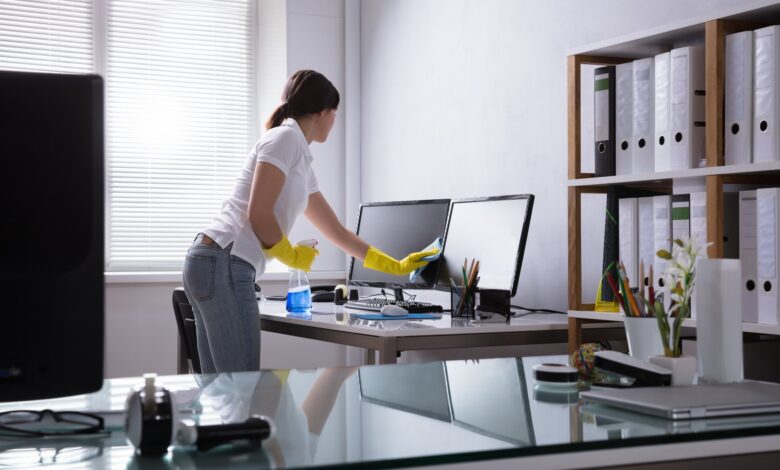 Businesses that properly clean their offices show an organized, ethical, and well-presented business format. For the sake of your staff and your business overall, make sure you keep your workplace clean and sanitary.
Cleaning your office doesn't have to take a lot of your time to be effective. With a proper cleaning checklist and tips, you'll be able to clean your office in a minimal amount of time but still reap rewards.
With the right office cleaning checklist, you'll be able to provide a clean and organized work environment for yourself and your staff. Here's our top-tier list of cleaning tips and tricks. Read on.
Prioritize Some Sections
An effective office cleaning checklist should prioritize some sections to save time and effort. The priority should be the desktops of desks and computers. These are the most difficult and time-consuming areas to clean.
Next, the chairs, cupboards, and storage furniture should be cleaned to reduce dust and grime accumulation. Walls, floors, windows, and other surfaces should be attended to in order, followed by a thorough vacuuming.
Deep cleaning of the floors, furniture, and equipment should be done on a bi-weekly basis. Finally, hygiene items such as bins and bathrooms should be given regular attention. It's best to think about what areas are commonly used to effectively clean the office.
Allocate Enough Time
The most effective office cleaning checklist for busy professionals should be tailored to the individual's time management, energy levels, and individual working style. Allocating enough time is key, as this allows for a more thorough, less rushed job. Estimate the time needed for each task, factor in breaks, and create a realistic timeline.
Remember that a certain degree of flexibility can be required. Start with the most important jobs first, such as the desk and floors, and break down the entire cleaning process into chunks. Don't forget to declutter and organize for a seamless cleaning experience.
Disinfect the Restrooms
It is important to ensure that door handles, countertops, and other surfaces are regularly wiped down with an approved disinfectant. Sanitizing wipes or sprays can also be used to disinfect sinks, toilet seats, and other bathroom fixtures.
Thoroughly cleaning toilets, urinals, and other fixtures with a disinfectant should be part of the routine. Air fresheners or deodorizers can be used periodically. This is to ensure bathrooms are kept smelling fresh.
To clean your office effectively, it's best to use disinfectants. This will help employees avoid getting sick and keep a good health condition.
Hire a Commercial Cleaning Service
Hiring a commercial cleaning service can be the most effective way to keep your office clean and organized. This is while you stay focused on business. They can develop a tailored checklist to fit the office size and cleaning needs.
These include dusting and polishing furniture, vacuuming carpets, spot-cleaning walls and windows, and disinfecting surfaces. They help free up time for professionals to focus on work.
They also ensure that the office is professionally cleaned regularly. Visit https://newimagecleaningservices.com/chesterfield-va-cleaning-services-new-image-cleaning-services/ to know more about keeping a clean office with the help of some pros.
Create an Office Cleaning Checklist Today
A comprehensive office cleaning checklist is essential for keeping a busy office sanitary. Regular cleaning with the right products and tools ensures a safe and healthy environment for employees and customers. Putting this checklist into action is easy and will save you time and money in the long run.
With this checklist, you can be sure your office is spotless! Get started and start making your office a clean, organized, and productive workspace.
If you want to read more articles, go to our blog.
You Might Also Like: