SEO
Top WordPress Web Development Trends for 2023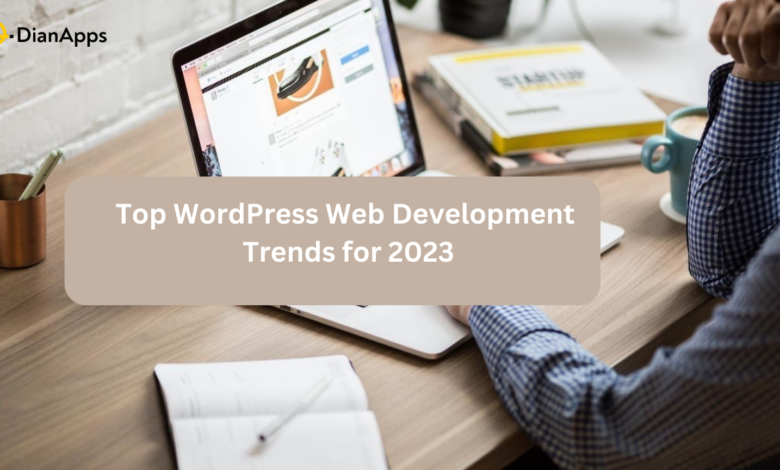 WordPress is a versatile service platform that can offer a wide range of functions. They can meet the needs of any individual or business website. It has evolved from a simple blogging platform to the most powerful content management system (CMS) in its 19+ years of history. In fact, it is used by 43% of all websites.
WordPress provides customers with one-of-a-kind digital experiences thanks to an impressive library of features, plugins, and third-party service integrations. It enables organizations to scale and grow while achieving their goals.
However, what we like best about WordPress is that it is constantly evolving and improving! But what's behind this evolution?
Well, this article has the answer to the above question.

In this article, we'll look at the top WordPress website development trends for 2023. You can use the trends to create a high-quality website right away.
Why is WordPress best for website development?
According to the survey, WordPress is a critical component used by 43.1% of websites on the internet due to its widespread popularity and long-standing existence.
It is an excellent choice for backend development because it allows for expandability, flexibility, and custom software development services.
It's an open-source CMS that lets developers create a wide range of themes, plug-ins, and widgets.
Since it is simple to use, it is the CMS of choice as compared to other millions of sites. As a result, incorporating the latest trends and features on your website becomes simple peasy using the WordPress CMS in 2023, and it will keep you competitive.
WordPress website development includes the ability to quickly and easily update, edit, change, or modify the website's content.
WordPress is the ideal CMS for your website, regardless of whether you are a content creator, business owner, or blogger.
WP development is inexpensive with various open-source plug-ins. Therefore, WordPress will enable a diverse range of market companies to provide cost-effective website development services.
Top WordPress Web Development Trends for 2023
1. WordPress 6.1
The fact that WordPress is constantly growing is one of its best qualities. WordPress 6.1, which includes fantastic features in WordPress for website app development, became available at the end of 2022.
Phase 2 of their Gutenberg Page Builder initiative is version 6.1. Along with new features and upgrades to the block editor, there will be more than 400 changes as well as bug fixes, If you're interested, there will be a new default theme to apply.
Additionally, WordPress has been emphasizing ADA accessibility improvements. You can watch the downloading progress of WordPress in real-time to see how many users are downloading the latest version of WP.
2. WordPress for SaaS
WordPress, with its no-code platform, plays a significant role here. It simplifies SaaS product development.
WordPress, along with its plugins, makes it straightforward for website development companies to create SaaS products.
By using low-code or less-code platforms like WordPress, developers can save a lot of time, up to 90% less than traditional methods.
This means you can develop and release SaaS products quickly and at a much lower cost.
3. Progressive Web Apps (PWA)
Progressive web apps (PWAs) bring together the best of both websites and apps using the latest website development technology.
A PWA is like a website that you can install on your phone, just like a regular app. This means you get the full website experience on your mobile device without needing to download a separate app.
With WordPress, you can add PWA functionality through a plugin. This improves how the website stores data, making it faster and more engaging. Users can also install it on their phones like an app, providing them with a better overall experience.
4. Chatbot Integration
Lots of brands are using chatbots to give great customer service. Chatbots help by quickly answering questions and solving problems for customers, anytime they need help. They can also guide visitors to your website and gather useful feedback.
If you use WordPress, it's simple to add a chatbot to your site, which can make your users more engaged and satisfied.
5. Voice Search
Using voice search on WordPress is a popular trend that's beneficial for both users and businesses.
Businesses can integrate voice search into their WordPress websites using plugins.
This feature makes things easier for your website visitors. Instead of typing, they can just speak their command, and the results will quickly appear. It's all about convenience.
6. White Space
White space on your website is like a breath of fresh air. When you use it wisely, it makes your web content stand out and keeps visitors interested. This trend has become really popular and will continue to be important.
White space helps your website look neat, keeps visitors engaged, and gives it an attractive appearance that can turn visitors into potential customers.
7. Multi-Purpose WordPress Theme
Using multipurpose themes is a popular trend in WordPress website development. These themes are designed to work well for many different types of websites. They've become more popular because people often work on several projects at once, and these themes can easily be adjusted to fit the needs of different businesses.
8. Multilingual Support
Multilingual support in WordPress means your website can show content in different languages, and users can choose their preferred language.
You can do this by using plugins like WPML or Polylang, which help you create and handle translations for your pages, posts, and custom content.
Remember, for a multilingual website to work well, it's important to have a professional translator translate your content into all the supported languages.
9. Parallax Scrolling
One of the new web development trends in WordPress for 2023 is something called "parallax scrolling." It's an interesting web design trick where things in the background move slower than things in the front as you scroll down a webpage. This makes it look like the page has depth, almost like a 3D effect.
In WordPress, there are different ways to make this parallax scrolling happen. Plus, many modern WordPress themes already have this feature built-in, and you can customize it to your liking.
If you're not sure how to do it yourself, you can take advantage of WordPress web development services from a professional agency to add this neat parallax effect to your website.
10. WordPress VIP
One of the notable trends in WordPress is "WordPress VIP." It's something that even businesses of all sizes can now access. This means you can use WordPress VIP to create complex web solutions without much hassle.
This platform is now a viable choice even for large corporations that need advanced and intricate websites. WordPress VIP is essentially a highly managed hosting platform for WordPress, and it's particularly great for big websites with lots of visitors. It's known for being fast, very secure, and adhering to strict coding standards.
This trend reflects the growing demand from businesses that want to upgrade and expand their online presence.
Final Word
As a final note, it is advisable to focus on the above-mentioned web development trends while WordPress website development. Users benefit from improved usability, more custom functionality, and increased security with each new WordPress release.
If you're planning a website redesign or starting from scratch, consider using WordPress as your content management system. It's an easy-to-use platform with top-tier data security and customer support. Its cost-effective features will also help you save money on website development.
Do you believe that creating your own website is too difficult? If yes, then hire a top-notch WordPress website development company after conducting research and shortlisting the best ones that can meet your requirements.
You Might Also Like