APPS & SOFTWARE
Fill the Void in Morocco Taxi Industry with a Smart Taxi App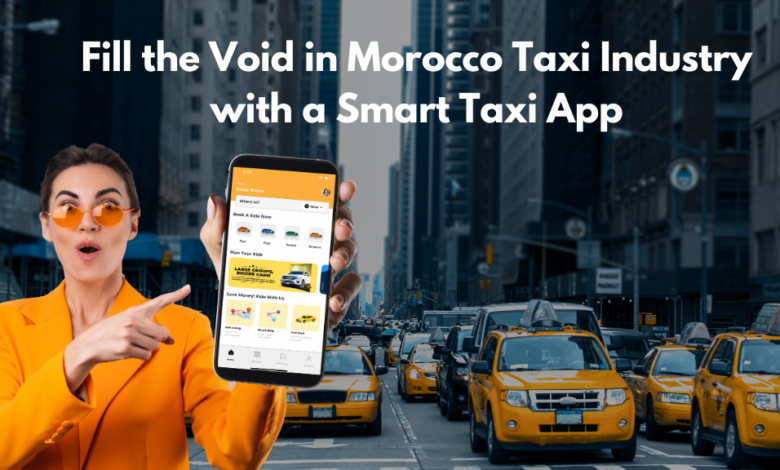 Despite its extreme preservation of ancient culture and heritage, Morocco is as avant-garde a place as any other in this day and age. Toured as an ancient civilization revived in the 21st century, anything one can expect to find in other countries, chances are Morocco has it too. That goes the same for taxi apps. Taxis are the most popular form of transport in Morocco since they are a very affordable way to commute daily between cities as well.
But sitting in a cramped vehicle with up to five other passengers, their luggage, and the driver is a memory no traveler should experience. That is why popular taxi apps such as Roby, Careem, Heetch, and Yassir have recently become a popular means of transportation among foreign tourists who need their space without any rush. Some of these apps are starting to target locals too, competing head to head with traditional drivers.
Table of contents
Introduction
A rich taxi culture
Popular Taxi Apps in Morocco
Launch your own taxi business in Morocco
Conclusion
There is increasing demand in Morocco for super apps that combine pay, mobility, and communications applications on one platform. New reforms to encourage research and the use of technology have been the prime initiative of the Moroccan government for the past decade. Between 2010 and 2012, the number of mobile apps for patents remained stable in Morocco. It came second after Egypt. However, a great majority of these patents were largely initiated by non-residents of Morocco.
From 2015 to 2019, with a surge of 167% of the usage of mobile apps in day to day lives, the number of patents declined. This drop in domestic patent apps was largely responsible for the surge in usage of mobile apps blending into the Moroccan lifestyle.
A rich taxi culture
In Morocco, ride-hailing apps are rare. Stopping a taxi is still the most common way. People do not Uber since the ride hailing giant was banned in 2018. They pile into grand taxis, which are old diesel Mercedes cars. There are two types of taxis in Morocco: the small ones and the big ones. Petite taxis (Fiat Uno and Peugeot 205) can seat up to 3 people, and Grand taxis (Mercedes-Benz W123) can seat up to 6 passengers, 4 in the back seats and two in front next to the driver.
Petite taxis are only for local city traffic. They can be found on the street or near bus or train stations. Hailing a Petite taxi alone will be shared into a carpool as the driver might pick up other passengers going the same direction. Being a shared vehicle, the passenger only pays for their place.
Grand taxis can take you anywhere inside as well as outside the city. These taxis can be hailed only from specific parking places. Each grand taxi driver has a fixed route to a set destination but costs more than a small, petite one.
Taxi is more convenient than overcrowded public buses that often go without a schedule and do not have air conditioning. Their prices are fixed per kilometer according to the meter. However, for any foreign tourist who needs to learn the basic rules of dealing with taxi drivers in Morocco, the trip can cost a fortune.
All official taxis in Morocco have a meter, but it takes much work to get taxi drivers to turn it on. They would rather negotiate the price of the fare up front, especially with foreigners.
Popular Taxi Apps in Morocco
Global ride-hailing giant Uber tried its luck in Morocco back in 2015 and operated till 2018 before suspending all its operations in the country because of regulatory issues. Since then other taxi apps have taken its place. As mentioned earlier, Roby, Careem, Heetch, and Yassir have become increasingly popular among local natives. Each with its own business model in place, has become a top source of connectivity among drivers and commuters.
Let's understand in detail –
Roby: By connecting registered taxi drivers with passengers needing a taxi ride, Roby calculates the distance of the trip and uses the official taxi metered fare to estimate the payment. Roby Taxi meets taxi booking demands by supplying public transport, employing only registered Moroccan taxis, and not private vehicles.
Careem: In January 2020, Uber acquired Careem for $3.1 billion (MAD 33.6 billion). Careem, however, continues to operate under its own brand in Morocco and internationally. Dubai-based Careem books all sorts of modes of transportation from a simple taxi to a private luxury car.
Heetch: Unlike Roby, Heetch charges taxi drivers a commission of MAD 5 per ride, making it the most popular among locals and considered to be one of the cheapest options.
Yassir: An Algerian-based ride-hailing taxi app Yassir expanded in Morocco in 2019, with future plans to expand its operations to other Moroccan cities, which may include food delivery.
The advent of these taxi apps is a daily reminder that the need for on-demand service is always welcome even in a country in which you can get a Taxi within a minute. The need for safer rides in vehicles who are tracked in real-time with GPS and their drivers checked by third party vendors is bound to become a hallmark of a platform that offers convenience and safety in a cost effective manner.
Launch your own taxi business in Morocco
By offering on-demand services such as ride-hailing, your business can help usher the North African region into a digital economy era. Become the most valuable startup with the right decisions making and business management.
Like every other super app or all-in-one ecosystem app, your business can also provide its customers with a single-point solution for their travels. The structure of your business needs a resilient foundation and that can only be done through an application that is as equally comprehensive and easy to use as your vision for expansion.
Conclusion
If you are looking to develop an On-demand Taxi Booking App in Morocco, choose a tech partner with years of experience and expertise in the field. Communicated with the team to get a detailed insight. Furthermore, take the On-demand Taxi App demo that offers better clarity of the App work mechanism.
Allow your customers to book, rent, or pool taxis for themselves or for others via your app. Buy our Taxi app clone before seeing the demo and we will start working on the setup and white-labeling processes. Get the preferred language and currencies for the locals and earn commissions on each ride from day one!
You Might Also Like: