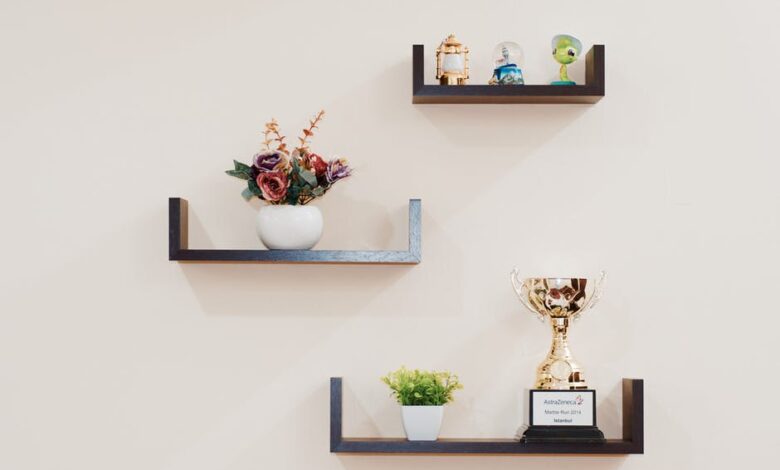 Proper hardware can help you create the desired effect when designing a space. This can help your design stand out and make a dramatic impression. Floating shelves are a popular choice to divide up spaces.
No specific hardware is needed if you do not have a particular need. If you do, however, you may have to choose. This can seem overwhelming as you have so many options.
Here is a guide on which floating shelf hardware you should choose based on what you will be using it for.
Different Types
Having the proper hardware is essential for both functionality and aesthetic appeal. Many different types of floating shelf hardware are available, each with unique features and benefits.
One popular option is the concealed mounting bracket. It offers a minimalist look by hiding the hardware behind the shelf. Another type is the adjustable shelf bracket, which allows customizable shelf placement.
Additionally, there are various styles and finishes, including sleek metal brackets and rustic wood supports. Find the best floating shelf hardware to create a stylish and sturdy display in your home. Consider this oak wall shelf if you are looking for some types of shelves with pleasing straight and neat grain lines.
Proper Installation
The best-floating shelf hardware should ensure stability, durability, and ease of use. It is also essential to correctly measure and level before installing. Proper installation is achievable for any room's functional and aesthetically pleasing addition.
Measure the Holes
Use a measuring tape to determine the distance between the holes and mark them accurately. This will ensure that the hardware is placed evenly and securely. It is important also to measure the depth of the holes, as this will determine the length of the screws needed. Proper measurement of the holes will ensure a sturdy and stable floating shelf installation.
Drill the Holes
To ensure that your floating shelves can hold the weight of your items, it is recommended to use a stud finder to locate the wall studs and drill the holes directly into them. If you cannot plug into a stud, use heavy-duty anchors to support the weight.
Measuring and marking the spot for the holes accurately is essential before drilling. Ensure that your hanging shelves will be adequately anchored and able to hold all your beloved items.
Hang the Shelf
The hardware should be strong enough to hold the shelf securely yet subtle enough not to distract from the shelf's design. A popular choice is the invisible bracket system, which uses a top and bottom bracket to support the frame without any visible attachments.
Another option is the floating shelf bracket, designed to be mounted directly into the wall, providing a clean and modern look. Additionally, correctly measure and install the hardware to ensure the shelf hangs securely and at the desired height.
Tools Needed
The most essential tools needed for this task include a drill, level, stud finder, and anchors or screws. A training is necessary for making holes in the wall to insert the anchors or screws, while a group will ensure the shelf is installed evenly.
A stud finder is essential for locating the studs in the wall, which provides the necessary support for heavy items. Additionally, durable anchors or screws are required to secure the wall shelf safely.
With these tools, you can confidently install the best-floating shelf hardware for a functional and stylish addition to your space.
Enhance Your Decor
Floating shelves are a great way to add functionality and style to any room. Choose the proper floating shelf hardware. This is to ensure these shelves stay securely mounted and adequately support weight.
The first thing to consider is weight capacity. Make sure the hardware can hold the items you plan to display. Inspect for durable and corrosion-resistant materials such as stainless steel or heavy-duty nickel.
Look for hardware with easy installation processes and adjustable height options for versatility in design. Enhance your decor while also ensuring safety and stability.
Maximizing Space
One of the best solutions when maximizing space in your home is adding floating shelves. But the right choice of hardware makes these shelves even more efficient and durable. Opt for heavy-duty brackets for heavy-duty shelves, while concealed brackets can easily support lightweight frames for a sleek look.
It is also essential to consider the hardware's design and style to complement your space's overall aesthetic. With the right floating shelf hardware, you can easily optimize your space while adding a touch of modern elegance.
Top Features to Look
Considering the top features that will ensure a sturdy and secure installation is essential. Check for heavy-duty brackets made of durable materials such as:
This can support the weight of your desired shelf. Look for hardware with adjustable features. This is to accommodate various shelving needs.
Consider hardware with a sleek and minimal design to complement the aesthetic of your space. Check for easy installation instructions and all necessary hardware included in the package. This can confidently choose the best floating shelf hardware for your home.
Choosing the Right Size
The right size can ensure proper installation and enhance the overall aesthetic of the shelves. It is essential to measure the space where the brackets will be mounted. Determine the weight-bearing capacity needed for the items to be displayed.
Consider the length and width of the shelves. It ensures they fit comfortably in the designated area without appearing too small or bulky.
Select the perfect size for your floating shelves. Create a functional and visually pleasing display in your home.
Going Beyond Looks
A solid and reliable floating shelf hardware is crucial. This ensures that your shelf can hold the weight of your items without risk of collapsing. Look for options made of sturdy and durable materials, such as stainless steel or heavy-duty brackets.
Additionally, make sure to choose hardware that is designed specifically for floating shelves to ensure a proper fit. Don't compromise on functionality for the sake of looks regarding floating shelf hardware. Invest in the best quality to provide style and safety in your home.
Follow This Guide to Have the Best Floating Shelf Hardware
In conclusion, finding the right floating shelf hardware is essential for creating a sleek and functional storage solution. With various options available, you must consider your needs and follow a reliable guide to ensure a successful installation. Don't wait; start shopping today!
For more helpful tips, be sure to follow us!