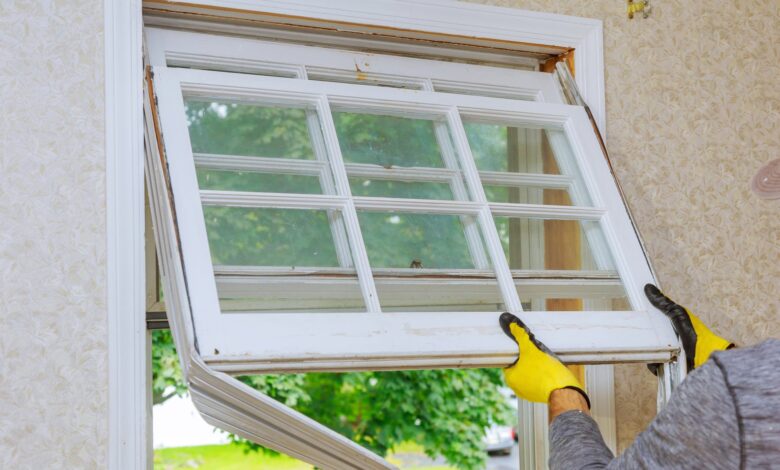 Are your windows old and worn out?
The right window can be a great investment and a source of pride. Windows can make your house feel more like a home and cut down on your energy bills.
If you're considering windows that can withstand extreme weather conditions, then you'll want to learn about retrofit windows. These units can be installed on most homes, but to perform at their best, they require a few special considerations.
So read on to learn about the different types of windows and which ones are best for your home.
Single Hung
Single-hung windows are the simplest and most common style of retrofit window. They feature one operable panel that slides up and down, with the remaining panels fixed in place. The operable panel is usually, but not always, the bottom panel.
These windows have panels typically made of vinyl, wood, or composite materials that sit in a single frame. They with tracks that allow the operable panel to slide vertically. They are easy to operate, making them a great choice for providing ventilation.
Double Hung
Double-hung windows are the most popular type of retrofit windows. This is due to their classic look, energy efficiency, and ease of installation. They are typically installed from the interior of the home and require no structural changes to the existing window openings.
The two sashes slide up and down and can be easily tilted to clean both sides of the window. Additionally, these windows provide the maximum potential for improved energy efficiency when compared to other types of window styles.
The two-pane feature allows for more air to be trapped in between the two frames. It creates a tight thermal insulation effect. They are an ideal window to choose for those looking to increase energy efficiency, allow in natural light, or open up a space. They make a great addition to any home.
Sliding Varieties
Sliding varieties are popular for providing a more open and airy look. These windows replace the existing frames and add two new windows that work together. They let you slide one window open while the other remains stationary for added security.
They are usually made of durable aluminum or vinyl and can be customized with different colors and patterns. You can choose from a wide variety of styles and sizes to match your home's existing look.
Sliding varieties are great for larger openings and rooms that need more ventilation. By utilizing the latest technology and modern materials, retrofit windows guarantee a seamless and secure installation.
Casement Windows
These windows have a technological advantage over their original counterparts, providing good insulation and soundproofing. Casement windows come with several operational variations, including single-side, double-side, and tilt & turn.
Single-side casement windows swing outward from the hinges, while double-side casement windows require two operating arms for both sides of the window. The tilt-and-turn design offers both a tilt mode and a crank-out style of opening.
These modern windows are crafted with superior security, durable materials, and tight seals that help to keep the outside elements out. They also come with several design and color options. This makes them a great way to update the look of your home without a full window replacement.
Bay and Bow Windows
Bay and bow windows provide a great way to increase the natural light and ventilation of a room. It also adds a touch of style and elegance to the home.
A Bay window is usually a three-paneled window that projects from the home. This allows you to enjoy stunning outdoor views from multiple angles
A bow window is typically a larger window with four or more panels. They create more of a curved arc-like pattern.
Both styles can open up a room with a beautiful view while still providing insulation that can help keep energy costs down. It's important to make sure that the window opening size and shape match the updated windows, or the installation process may not be successful.
Fiberglass Retrofit
Fiberglass retrofit windows are one of the different types of retrofits available on the market. These windows are made from a thermoplastic material which is combined with glass fibers to form a strong, durable product.
The assembly is designed to provide superior window insulation and energy efficiency. These windows save energy by sealing in warm air. They also filter out excess noise, reduce outside noise pollution, and provide ultraviolet protection.
Fiberglass windows provide airflow while still protecting against air leaks, and their texture and color hold up for much longer periods than other materials. These windows also prove to be one of the most cost-effective retrofits available. They require minimal maintenance and can last up to three times longer than other materials.
Double-Glazed
Double glazing is an energy-efficient window that consists of two panes of glass with a sealed gap in between them. The air gap provides additional insulation and prevents heat and sound from entering or leaving the room.
Double glazing can be installed in any style of window with customized shapes, sizes, and designs. This makes it an excellent choice for retrofitting existing windows.
To help you make the right choice, check out Windows San Jose. They have a wide selection of windows for your needs. With the right type of window, any home can be outfitted with energy-efficient windows while improving the ambiance of the home.
Aluminum Retrofit Windows
Aluminum windows are a popular choice due to their low maintenance and ability to insulate against the cold. These windows are also an energy-efficient choice since they are capable of blocking out UV rays and deflecting heat.
Aluminum is also a durable choice for these types of windows since it is strong and corrosion-resistant. The cost of aluminum windows tends to be higher than other types of windows, but their long-term savings in insulation and energy efficiency can outweigh the upfront cost.
Ensure an Energy Efficient Home Using Retrofit Windows
Retrofit windows are an attractive and practical choice for many homeowners. They are energy efficient, reduce noise, and can help improve a home's climate control. With the different options available, homeowners can find the right window for their needs.
Consider installing retrofit windows in your home for a modern look and improved livability. Contact your local window installation professionals to find the perfect window for your needs.
Be sure to explore our blog as we have many articles to help you along your journey.
You Might Also Like: