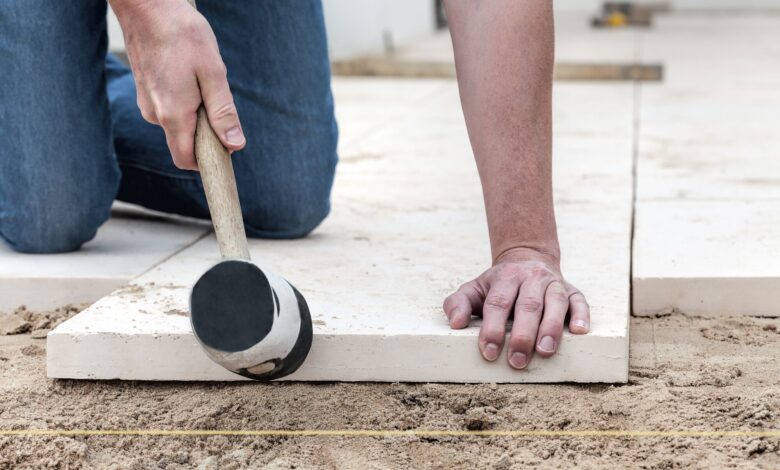 Whether your patio is new or you want to expand an existing one, pavers are a wonderful solution.
They provide a custom look that many customers love. It's like a mosaic, but easier to install, safer, and more durable. While they can be simple in black, brown, or grey, they can also make excellent canvases for custom designs.
If you're ready to get started on your patio, look at these eight patio paver patterns below to find the perfect one for you.
1. Running Bond Pattern
One popular and versatile option is the running bond pattern, which can be used on any terrain and appeals to a variety of tastes. This classic layout features pavers arranged in a staggered pattern, giving the illusion of movement and creating a visually appealing design.
Whether you prefer a traditional, contemporary, or even a whimsical look, the Running Bond pattern is adaptable and can complement any outdoor space. Plus, its strong interlocking bond makes it a practical choice for any terrain, ensuring long-lasting durability and a beautiful patio for years to come.
2. Herringbone Pattern
Another popular choice is the herringbone pattern, known for its elegant yet intricate design. This pattern features interlocking rectangular pavers laid at a 45-degree angle, creating a zigzag effect. It is not only visually appealing but also structurally sound, making it suitable for various terrains.
The herringbone pattern can be customized to fit any style, from traditional to modern, and can be used with a variety of materials including brick, concrete, and stone. So whether you prefer a rustic look or a contemporary feel, the herringbone pattern is a versatile and timeless choice for your patio.
3. Basketweave Pattern
The basketweave pattern offers a timeless and elegant look to any outdoor space. This pattern features alternating rectangular and square pavers, creating a woven effect that adds texture and visual interest to the patio.
Whether you have a flat or sloped terrain, the basketweave pattern can be easily adjusted to fit your space, making it a versatile choice for any type of backyard. With its classic appeal and adaptability, the basketweave pattern is sure to enhance any patio.
What makes the basketweave pattern truly stand out is its versatility. It can be laid in a variety of orientations, giving you the freedom to create a truly customizable look. With its timeless and timeless charm, the basketweave pattern is a popular choice for those looking for a stylish and durable patio design.
4. Circular Pattern
The circular pattern is a versatile and timeless option that can work for any style and landscape. This pattern creates a welcoming and cohesive look, with the curved edges providing a soft and flowing aesthetic. Whether you have a flat or sloped terrain, the circular pattern can easily adapt and create a visually stunning patio.
From traditional cobblestone to modern interlocking patterns, there is a circular paving option to suit every taste and terrain. Say goodbye to a dull and uninspired patio, and hello to a stylish and functional outdoor space with a circular paver pattern.
5. Random Pattern
The random pattern stands out as a versatile and unique choice. The random pattern offers a unique and natural look by mixing different-sized pavers. This pattern is perfect for any type of terrain, as it can easily adapt to curves, slopes, and uneven surfaces.
This makes them a popular choice among homeowners who want their patio to stand out from the rest. So, if you are looking for a patio paver pattern that will make a statement and complement your terrain, the random pattern is the way to go.
The random pattern also allows for creativity and customization, making it a favorite among homeowners. With its versatility and charm, the random pattern is a great choice for any patio project.
6. Running Bond with Soldier Course
The running bond with soldier course pattern combines a traditional running bond layout with a bold and structured border created by the soldier course. This pattern is perfect for both level and sloped terrains, providing a clean and visually appealing look to any outdoor space.
Additionally, the running bond with soldier course pattern allows for easy installation and requires minimal maintenance. This makes it a practical choice for any homeowner looking to elevate their patio design.
7. Diamond Pattern
A patio paver pattern that stands out for its versatility and aesthetic appeal is the diamond pattern. This pattern features a series of interlocking bricks placed at a 45-degree angle, creating a timeless and classic look. With its ability to accommodate various shapes and sizes of pavers, the diamond pattern is perfect for any terrain.
Whether your patio is on a flat surface or a sloping one, this pattern can be easily adapted to suit your needs. Plus, its versatility allows for endless paver design possibilities, making it a perfect fit for every taste and terrain. So, whether you prefer a modern or traditional look, the diamond pattern is the ideal choice for your patio paver layout.
8. Mosaic or Medallion Pattern
The mosaic or medallion pattern adds a touch of elegance and artistry to any patio. With its various shapes and colors, this pattern allows for endless customization and is perfect for those with a creative eye. It also works well for different terrains, as the smaller paver pieces can easily adapt to uneven surfaces.
Overall, the patio paver pattern is a crucial element in creating a beautiful and functional outdoor space that represents your style and fits the natural landscape of your terrain. These patterns can be easily installed by an expert brick paver installation company.
Your Patio Paver Patterns Affects Your Terrain's Overall Aesthetics
Patio paver patterns offer a versatile and customizable solution for homeowners looking to elevate their outdoor space. With options to suit every taste and terrain, there is no limit to the creative possibilities for creating a beautiful and functional patio. Don't wait any longer, contact a professional today and start transforming your patio into the ultimate oasis!
For more articles besides these patterns of pavers, visit our blog.
You Might Also Like: